Do I Need a License to Sell Microgreens? Dispelling Myths & Unveiling Truths
Some of our posts on Microgreensguru.com contain affiliate links. If you click on an affiliate link and make a purchase, we may receive a commission. Clicking on an affiliate link that earns a commission does NOT result in additional charges or costs you extra. Earnings from affiliate links help keep this website running. See our full affiliate disclosure here.
Microgreens have exploded in popularity in recent years, becoming a staple ingredient for chefs and home cooks alike. These young seedlings of vegetables and herbs pack an intense burst of flavor, vivid colors, and concentrated nutrients into every bite.
As microgreens gain traction as a functional superfood, many farmers and entrepreneurs are looking to get into commercial microgreens production and sales. However, navigating the various legal and regulatory requirements can seem daunting for new microgreens businesses. Proper licensing and compliance are crucial to operating a legitimate venture.
This article provides an overview of key questions around licensing, permits, regulations, and guidelines when selling microgreens in the United States. We'll explore common food safety laws, business licensing needs, production standards, sales outlets, and strategies for launching a successful microgreens enterprise. Let's examine the crucial steps for legally selling microgreens across America.
Microgreens Popularity and Expanding Market Demand
Microgreens owe their rising popularity to both their nutrition and their versatility as an ingredient. Some key advantages of microgreens include:
Vibrant colors and intense flavors that enhance dishes
Ability to grow nutrient-dense greens year-round
High levels of vitamins C, E, K, lutein, and beta-carotene
Use as garnishes, salads, sandwiches, juices and more
Microgreens fit perfectly into several food trends:
Locally grown, farm-to-table dining
Plant-based diets and vegetable-centric eating
Nutrient density and superfoods
Edible garnishes and premium ingredients
The global microgreens market is projected to reach $2.5 billion by 2027, expanding at a CAGR of 11%. Demand from high-end restaurants, grocers, subscribers, and the food service industry continues rising. Microgreens present a profitable opportunity for growers, but require proper planning and compliance.
Table 1: Popular Microgreen Varieties
| | |
| --- | --- |
| Microgreen | Key Characteristics |
| Pea Shoots | Mild flavor, easy to grow, versatile |
| Sunflower Greens | Nutty flavor, high yields |
| Broccoli | High in nutrients like vitamin C and sulforaphane |
| Radish | Adds color and spice, fast-growing |
| Arugula | Peppery and pungent, perfect for salads |
Licensing Considerations for Commercial Microgreens Ventures
When evaluating whether to start a microgreens business, a key question is: do I need a license to sell microgreens? Unfortunately, there is no simple yes/no answer. Requirements vary based on location, sales volume, business structure, and other factors.
Broadly, commercial food sales require various permits and licenses. Most microgreens sellers need the following:
Local business license
State seller's permit/tax license
Food safety/handling certificates
Facility inspection permits
Organic certification (if applicable)
Insurance coverage
We'll explore specifics in each of these areas that microgreen businesses must address. But in general, compliance is mandatory and protects public health. Licenses also lend credibility to commercial buyers.
Let's dive into the first steps of understanding food regulations and safety requirements for selling microgreens in America.
Key Takeaways on Licensing to Sell Microgreens
Microgreens are subject to federal, state, and local food safety regulations as fresh produce intended for consumption. Obtain all mandated licenses.
Common permits needed include business licenses, seller's permits, food handler certifications, and facility approvals. Requirements vary regionally.
Compliance protects public health, avoids penalties, and builds customer confidence in your microgreens. Don't skip required licenses.
Specialty microgreens may need additional licensing like hemp permits or organic certification. Understand niche regulations.
Home-based sellers can potentially operate under cottage food law exemptions for low volumes of microgreens initially.
Create a thorough food safety plan outlining protocols for safe growing, handling, washing, packing, and storage.
Factor in tax obligations like quarterly estimated payments and sales tax collection/remittance as a microgreens business owner.
Obtain adequate insurance to safeguard your business assets against risks like lawsuits, property damage, or inventory losses.
Commit to legal and ethical practices; communicate transparently, address customer concerns promptly, and comply with regulations.
Research all federal, state, and local laws thoroughly before selling microgreens. Compliance from the start prevents issues.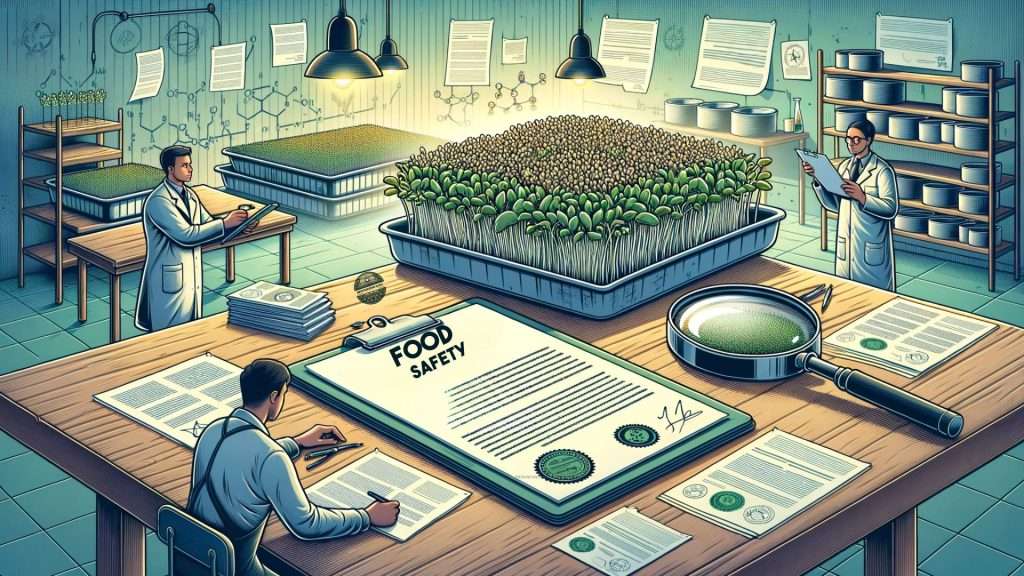 Food Safety Laws and Regulations
Selling fresh produce like microgreens commercially requires compliance with numerous food safety regulations and protocols. Various licenses and permits related to storage, handling, packaging, and processing may be mandatory.
Although requirements vary across different states and localities, certain food safety standards are common when selling microgreens. We'll explore the importance of proper licensing to assure buyers of quality and safety.
State Food Safety Certifications and Facility Licensing
Most areas mandate that any business selling food to the public must obtain permits from the health department. Common license needs for microgreen sellers include:
Food Handler's Permit: Requires basic food safety training for employees handling food.
Food Processing/Manufacturing License: For facilities that process or alter ingredients. Needed if microgreens are cut, washed, or packaged.
Commercial Kitchen License: Required if using a separate certified kitchen not based in a home.
Food Safety Inspection Permit: Allows regular inspections of storage and preparation areas.
Other location-specific licenses may be needed as well. Reach out to your local health department to identify mandatory certifications in your jurisdiction.
Why Proper Licensing is Critical for Microgreens Businesses
Obtaining the proper food safety licenses and permits is crucial for a microgreens operation for several reasons:
Adheres to regulations and avoids civil penalties or shutdowns.
Verifies safe, sanitary growing and handling procedures.
Reduces contamination risks and protects public health.
Establishes credibility with commercial microgreens buyers.
Provides training for employees on safe food practices.
Allows traceability if a foodborne illness outbreak occurs.
In short, compliance is mandatory, not optional for food businesses. Microgreens sellers must follow the same regulations as any produce grower, even if starting small.
Key Food Safety Practices for Microgreens Production
Beyond licensing, microgreens businesses must implement robust food safety plans including:
Test irrigation water for pathogens regularly.
Use clean, sanitized tools and equipment only.
Avoid cross-contamination during processing and packing.
Monitor temperatures stringently during transport and storage.
Validate the effectiveness of washing processes.
Clean facilities and hands thoroughly and frequently.
Only use uncontaminated seeds from reputable sources.
Adhering to best practices reduces food safety risks and protects your brand reputation.
Food regulations are stringent for fresh produce like microgreens. Obtaining required handling and facility licenses demonstrates your commitment to safety and quality. Implementing rigorous protocols ensures your microgreens meet the highest standards.
Table 2: Microgreens Food Safety Tips
| | |
| --- | --- |
| Practice | Description |
| Test Water | Ensure irrigation water is pathogen-free |
| Sanitize Tools | Disinfect surfaces and equipment regularly |
| Monitor Temperatures | Control temps during transport and storage |
| Validate Washing | Confirm sanitation procedures effectively clean microgreens |
| Avoid Contamination | Take steps to prevent cross-contamination |
Business Licensing Requirements
In addition to food safety permits, general business licenses are also required for microgreens ventures. Even home-based sellers need proper registrations to operate legally.
Standard Licenses for Microgreens Operations
At a minimum, commercial microgreens sellers need:
Business License: Registers your company and makes it a legal entity. Needed to operate in a jurisdiction.
Seller's Permit: Allows collection of sales tax on retail purchases. Required for any sales.
Fictitious Name Filing: Registers a "Doing Business As" name that differs from your personal name.
Depending on location, additional certificates like a weighmaster license may be required if selling wholesale in bulk.
Checking Regional and Municipal Regulations
Licensing needs can vary even within the same state, as counties and cities often have their own requirements. Steps to take:
Verify business license needs with your city clerk's office.
Check with the county health department for any permits.
Review state Department of Agriculture and Consumer Affairs rules.
Understand zoning regulations if locating a growing facility.
Obtain a commercial kitchen license if required.
Register for a sales tax ID number/reseller's permit.
Compliance at the local level is essential. Consult with regulators to identify all necessary licenses.
Benefits of Securing Proper Business Licenses
Obtaining the full gamut of required business licenses provides:
Legal authority to sell microgreens in your jurisdiction
Ability to buy supplies wholesale with tax exemption
Permission to purchase trademarked seeds and other inputs
Registration for collecting and remitting sales taxes
Protection of your business name under a DBA filing
Access to open commercial bank accounts
The right to hire employees and compensate them
Ultimately, proper licensing legitimizes your microgreens venture and allows for scalable growth. Work with advisors to ensure full compliance.
Standard registrations enable a legal enterprise. Check local rules to determine specific licensing needs based on your business model and location. With the right licenses secured, you can focus on your passion – growing great-tasting, highly nutritious microgreens!
Special Licensing Situations
Hemp and Cannabis Microgreens Regulations
Selling cannabis and hemp microgreens involves additional licensing considerations to ensure legal compliance. The USDA currently restricts interstate commerce of hemp, so sellers must obtain state licenses, follow tracking protocols, and limit sales within state borders only. The complex regulatory landscape means working closely with advisors to navigate hemp and cannabis microgreens permitting.
Licensing Needs Around Employees
When your microgreens business grows beyond a sole proprietorship and brings on employees, you must conform to labor laws around taxes, insurance, safety, discrimination, compensation, and more. Employment attorneys can help craft compliant workplace policies and procedures around hiring.
Cottage Food Laws for Home-Based Sellers
Cottage food laws allow limited microgreens sales from home kitchens without needing commercial facilities, but with constraints. Many states limit revenues, mandate labeling, prohibit wholesale trade, or require inspections. Know your local cottage food regulations.
Home-Based Sales Exemptions
Selling small quantities of homegrown microgreens may be exempt from licensing under state revenue thresholds. Other exemptions can include selling at farmer's markets, not needing commercial kitchens, and simplified labeling.
Organic Certification Requirements
Obtaining USDA or state organic board certifications enables marketing microgreens as organic. But it requires detailed record-keeping, affidavits from suppliers, inspections, and fees. This unlocks premium pricing potential.
Food Safety Plans
Some states mandate food safety plans that outline how microgreens businesses handle, wash, pack, and store greens to prevent contamination. Having a plan shows potential buyers your commitment to quality.
Zoning Laws for Facilities
If establishing a separate growing facility, ensure the property is zoned for agricultural use and any buildings meet size, parking, signage, and hour restrictions. Conditional use permits may be needed.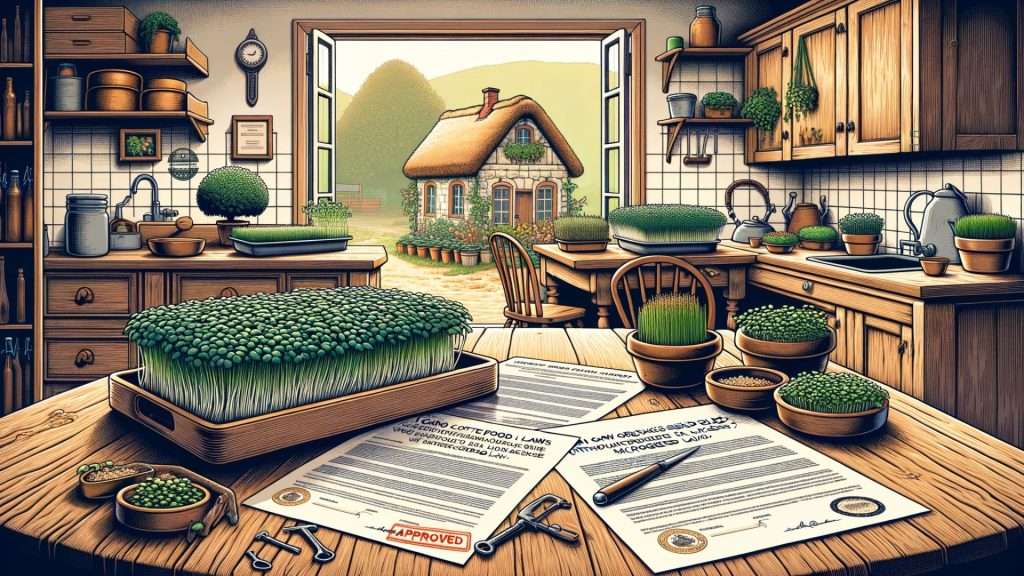 Selling Microgreens in the United States
The microgreens industry has seen immense growth across the United States in recent years. However, federal and state regulations govern various aspects of commercial microgreens production and sales. We'll examine some key laws and permitting at the national, state, and local levels.
FDA and USDA Rules for Microgreens Businesses
As microgreens are consumed fresh, the Food and Drug Administration (FDA) provides oversight under the Food Safety Modernization Act. The FDA mandates produce safety standards around:
Water quality testing
Worker hygiene and training
Packaging and temperature controls
Cleaning and sanitizing of surfaces
Avoiding animal intrusion
Detailed record-keeping
The USDA regulates organic certification for microgreens marketed as organic. Sellers must implement approved organic farming practices.
State and Local Health Department Permits
While federal agencies issue nationwide regulations, state and local authorities provide direct oversight of microgreen producers via permits and inspections.
Common state-level microgreens licenses include:
Food safety registrations
Home processor/cottage food permits
Organic certification
Waste discharge approvals
Local counties and cities regulate business licenses, zoning, commercial kitchen use, etc. Obtain all mandatory state and municipal licenses.
Examples of State Microgreens Regulations
Microgreens licensing requirements can vary significantly across different states:
Must obtain annual microgreens registration from the health department
Submits detailed plans on seed treatment, washing, packaging, etc.
Requires regular testing for pathogens
New York
Microgreens fall under home processor rules
Limits sales to direct-to-consumer channels
Requires approved home kitchen inspection
Allows minimal gross revenue without a commercial kitchen
Consult directly with regulators in your state when launching a microgreens venture. Compliance prevents legal issues.
Understanding all federal, state, and local laws allows microgreens sellers to operate legitimate, licensed businesses in America's thriving microgreens marketplace.
Marketing and Profit Potential
Current Market Size and Growth Trends
The domestic microgreens industry shows strong signs of expansion and rising demand. Market value is projected to reach $2.3 billion by 2026, up substantially from $1.2 billion in 2019. Key drivers behind this growth include retailers like Whole Foods stocking microgreens, increased use of microgreens in restaurants and meal kits, and a focus on nutrient-dense superfoods for preventative health. Higher urban microgreens farming also reduces food miles. Ongoing innovation around new varieties, specialty packaging, and vegan uses will also boost market size over time.
Key Factors Impacting Microgreens Profit Margins
A profitable microgreens operation requires efficient high-volume production in available growing space, minimizing costs, and securing fair value pricing from buyers. Goals include achieving dense, uniform growth with minimal losses, keeping labor, inventory, and distribution expenses low, managing seasonal fluctuations intelligently, and investing surplus profits to upgrade technology and expand capacity. Diversifying beyond just farmer's markets helps stabilize income streams.
Table 3: Pricing by Microgreen Variety
| | | |
| --- | --- | --- |
| Microgreen | Wholesale Price/lb | Retail Price/lb |
| Pea Shoots | $20 | $40 |
| Sunflower Greens | $25 | $50 |
| Broccoli | $30 | $60 |
| Mixes | $15 | $30 |
Why Selling Microgreens Can Be Highly Lucrative
Despite challenges, microgreens offer inherent advantages that make them a potentially lucrative business:
Low startup costs – can initially be run from a home kitchen.
High yields per square foot versus mature greens.
Rapid crop cycles allow multiple annual harvests.
Premium prices, especially for specialty varieties.
Year-round indoor growing enables consistent supply and sales.
Local and sustainable nature appeals to environmentally conscious consumers.
By optimizing production, keeping overheads low, and marketing strategically, microgreens provide an attractive small business opportunity.
Table 4: Microgreens Sales Outlets
| | | |
| --- | --- | --- |
| Outlet | Pros | Cons |
| Restaurants | Higher prices, promotions | Inconsistent demand |
| Grocers | Volume sales | Lower margins |
| Farmers Markets | Full retail pricing | Time intensive |
| CSA/Delivery | Pre-orders, convenience | Route logistics |
Additional Considerations
Beyond licensing and regulations, microgreens ventures must address key financial aspects like taxes and insurance properly. Keeping accounts, records, and finances in order is imperative for a compliant and sustainable business.
Tax Obligations for Microgreens Sellers
As a microgreens business owner, your tax responsibilities include:
Obtaining an Employer Identification Number (EIN) from the IRS.
Paying quarterly estimated income taxes on self-employment earnings.
Collecting and remitting sales tax in states where required.
Issuing 1099 forms to any hired contractors or freelancers.
Maintaining detailed income and expense records for tax filing.
Registering for state taxes if selling products in multiple states.
Work closely with a qualified accountant or tax advisor to ensure full compliance and maximize write-offs. Keep transparent financial records.
Importance of Insurance Coverage
Product liability insurance is highly recommended to safeguard your microgreens business from the risks of:
Customers getting ill from spoiled or contaminated produce.
Injury lawsuits from employees or visitors at your facility.
Damages to your property, equipment, or inventory.
Delivery truck accidents.
The right insurance protects your hard-earned business assets and mitigates risks. Common policies include General Liability, Product Liability, Worker's Compensation, and Commercial Auto.
Maintaining Legal, Ethical Business Practices
Beyond formal compliance, maintaining high integrity in all business practices is wise. Some tips:
Clearly communicate about your production methods and farming practices.
Never make unsupported health or nutritional claims about microgreens.
Promptly address any customer concerns and remedy issues.
Comply with labor laws and create a fair, ethical work environment.
Taking the extra steps to operate legally, morally, and sustainably pays dividends in customer and employee loyalty.
Handling the financial and insurance aspects prudently prepares your microgreens venture for the long haul.
Final Thoughts
Starting a microgreens business offers exciting opportunities to capitalize on the booming market for these nutrient-packed greens. However, navigating the patchwork of regulations and licensing across America requires diligent research and compliance. Let's recap key lessons from our exploration of legal microgreens selling.
Licensing and Regulations Vary Widely Across States
While all microgreens sellers need business registrations, food safety permits, and seller's licenses, precise requirements differ across states, counties, and cities. There's no universal license covering all jurisdictions. Expect extra steps for niche situations like hemp microgreens or organic certification. Home-based sales may qualify for exemptions in some areas. Ultimately, you must thoroughly understand regulations at each government level.
Compliance Protects Your Business and Customers
Obtaining the mandated licenses, passing inspections, and implementing food safety protocols aren't just red tape. It provides critical protection. Proper licensing legally allows you to operate and prevents steep fines. Food safety procedures reduce contamination risks that could endanger customers. Regulation compliance removes obstacles to focus on growing your ideal microgreens venture.
Research All Laws Before Selling Microgreens
Don't wait until after launching your business to learn about licensing needs. Delaying compliance risks enforcement actions. Local authorities are ready resources to explain requirements upfront for your specific microgreens operation. No two states or cities are identical. To avoid missteps conduct comprehensive due diligence on regulations before selling the first tray of microgreens. A prudent investment on the front end.
While licensing and regulations must be addressed, selling microgreens remains a rewarding endeavor for passion-driven farmers and food entrepreneurs. We hope this guide illuminated key considerations for legally and successfully launching your microgreens enterprise. Let us know if any questions arise during your exciting journey into the flourishing microgreens industry!
Frequently Asked Questions About Do I Need a License to Sell Microgreens